The withdrawals are really starting to ramp up.
I went as far as to put an eBay Buy It Now listing in my cart yesterday. Then, I screamed, "NOOOOO!" and clicked out of the window. My co-worker, Emily, texted me and asked me where the banging on our shared wall was coming from.
My mother could sense my distress from 40 miles away. She FaceTimed me and immediately exclaimed, "Don't do it!"
Let's go take a journey through the items I am doing everything in my power not to bid on...
I may or may not already own this dress in a different pattern. However, I'd like to defend my desire for this dress by insisting that I could totally rock this color. A redhead in teal? Gorgeous, my friends.
The J. Crew Schoolboy Blazer is the most comfortable and flattering blazer in the world. I'm convinced that I need it in every color and material. Velvet, tweed, wool, cotton in all the colors of the rainbow. Don't argue with me.
Remember when I mentioned that I hate shoes? Shoe shopping really, really stresses me out. This shoe, however, is the most comfortable shoe ever made. It's chic, yet heavenly, and comes in solid and pattern styles in suede and Italian leather. They're divine and I really could wear them every single day. Sadly, they retail for the obscene price of $138. $138...for flats!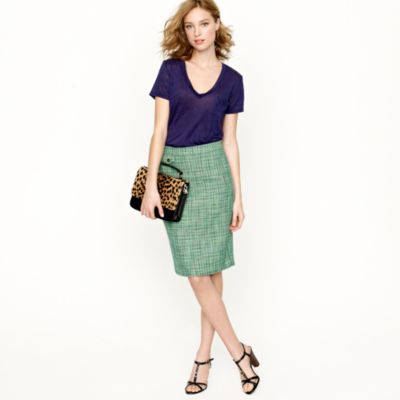 Look at this model! Look at her! She is so chic and effortless in her fancy skirt and her casual tee with her wavy hair. She is everything I want to be. If her life were for sale on eBay, I'd probably buy it. Instead, only the skirt is available, and I can't even buy that because I'm a masochist.